Hay is a very important crop for the farming industry. Farmers with livestock rely on top-quality hay to provide forage for their grazing animals when other grazing plants are scarce. Because of this, it is important for hay to be highly nutritious and healthy.
So, how can you maximize the value of your hay to make it more desirable? Find out in this complimentary hay guide!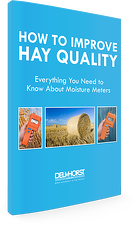 With our FREE GUIDE, you'll find out how to make the BEST hay by:
Picking the best forage to use for hay

Timing the harvest of hay for best results

Choosing the right baler for the job

Measuring and controlling moisture in hay

And MORE!
This guide will also teach you how to quickly and accurately measure the moisture in your hay, so you will have the readings you need to get the highest quality hay from your harvest.